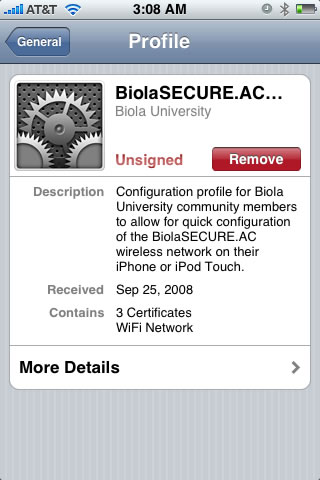 If you have an iPhone or an iPod Touch with 2.0 Software or later than you can enjoy the benefits of Biola University's first configuration profile. This profile, when opened by your unit, will automatically install giving you seamless access to the BiolaSecure.AC network. This means that you will not still will have to log-in to Clean Access or but don't have to use BiolaGUEST every time you want to use wifi. In order to install this profile go to the iPhone / Manual Setup page using you iPhone or iPod Touch. Then look on the righthand side where you will see a "Dowloads" box. Click on "login using your NetID". Log-in using your netid and password and then follow the on screen instructions. It really couldn't be easier. Way to go Biola! Hopefully they will add more features to the configuration profile like Bubbs e-mail or even create a cool app to access portal.
I am excited to share about my web host, Rapid VPS. This is a great company which has awesome support, the most features that I've ever seen and all at a cheap price. I would definitely recommend them for anyone who is looking to get a reliable Virtual Private Server. They have the experience and the tools to help you with any problem and have exceeded my expectations in providing easy management and over-the-top features for your web hosting experience. The fact that through the control panel: you can restart your server, restore an image of your server, or reinstall the OS if your server goes haywire is a feature you rarely find.
I have been with them for over a year and a half and have been very impressed. They do have special pricing available if needed and they happily host my non-profit organization's website: California School Project dot Com. Their motto is "root is everything" and to Rapid VPS, root is really everything. You get root access to your server and much more than you could ever ask for.
I posted information earlier about a great Netflix widget. However I was looking around some more and found another great Netflix widget. This widget is provided through AdaptiveBlue. AdpativeBlue is a great service if you want to add beautiful widgets to your website using RSS feeds from common websites. They provide widgets for services like Amazon, Blockbuster, Epicurious, iTunes, Last.fm, Netflix, New York Times, Rhapsody, Rolling Stone, Snooth, Wallstip, Wine.com, and Yahoo. The great feature is you don't even have to have an RSS feed; you can show the best selling books off of Amazon or the music you've purchased off of iTunes. You can sign up for other features that include keeping track of stats, toolbars that help you see media reviews fast and easy, and also add great information to links about books, movies, music and stocks. Many of their features integrate with common platforms.