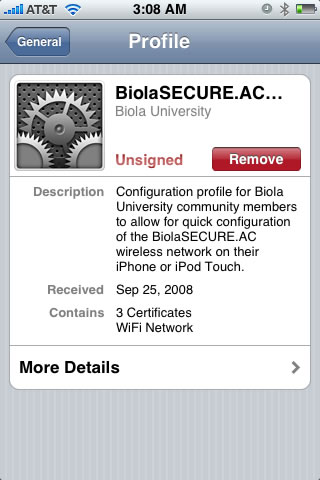 If you have an iPhone or an iPod Touch with 2.0 Software or later than you can enjoy the benefits of Biola University's first configuration profile. This profile, when opened by your unit, will automatically install giving you seamless access to the BiolaSecure.AC network. This means that you will not still will have to log-in to Clean Access or but don't have to use BiolaGUEST every time you want to use wifi. In order to install this profile go to the iPhone / Manual Setup page using you iPhone or iPod Touch. Then look on the righthand side where you will see a "Dowloads" box. Click on "login using your NetID". Log-in using your netid and password and then follow the on screen instructions. It really couldn't be easier. Way to go Biola! Hopefully they will add more features to the configuration profile like Bubbs e-mail or even create a cool app to access portal.
From the Apple Worldwide Developers Conference:
Apple figured out what the next challenges are.
1) 3G network support 2) Enterprise support 3) Third party application support 4) More countries (joking about unlocked iPhones in countries not officially supported) 5) More affordable
Introducing the iPhone 3G.
Apple has learned so much with the first iPhone. They have taken everything they've learned and more and created the iPhone 3G. Even thinner, black plastic back, solid metal buttons, same gorgeous display, camera, flush headphone jack, and dramatically improved audio.
How does the iPhone 3G tackle the challenges? 3G = faster data downloads, perfect for Safari and Mail. Comparing download speeds between 3G and EDGE. 3G finished in 21 seconds. EDGE finished in 59 seconds.
2.8X faster. Approaching WiFi speeds (WiFi scored 17 seconds). When compared to other 3G phones (Nokia N95 and Treo 750), the iPhone is 36% faster — and better looking.
3G has great battery life on iPhone. 300 hours of standby, 2G talk-time now has 10 hours (as opposed to 5), 5 hours of 3G talk-time (most phones only have 3 hour 3G talk time), 5 to 6 hours of high-speed browsing, 7 hours of video, 24 hours of audio.
GPS support now integrated into the iPhone.
Checking off 3G from the list of challenges. The second challenge, enterprise support, is fully built-in and can be checked off. The third challenge, third party application support, can also be checked off. The fourth challenge, more countries, can be checked off as it will be available in Canada, Mexico, Norway, Sweden, Netherlands and many others — "It's a Small World" is playing as countries continue to appear on the map.
Now on to the final challenge — affordability. Started at $599 for an 8GB iPhone, now $399. The iPhone 3G 8GB will sell for… $199.
$299 for the 16GB — a white version of this size will be available too.
The iPhone 3G will be available July 11th in 22 countries. The maximum price around the world is $199 USD. Now showing an ad.
Thanks to macrumorslive.com
Image via
Wikipedia
So the other day I signed up for Netflix and it's pretty legit. They have a 2 week trial which you can sign up for but was not the reason I signed up. Most of my energy was placed into typing in my name and waiting for my first movie to arrive. I chose to request Blood Diamond first as I had not seen it yet but I have wanted to for a long time. They mailed it out right away. The best part is that the distribution center is in Santa Ana so I think I received it the same day that they mailed it or at least the next day.