Image via
Wikipedia
I recieved a new Palm Treo 700 WX about a week ago because I had dropped my old Palm Treo 700 W. The service provider I have is Verizon Wireless and I have insurrance included with my phone. About amonth ago I dropped my old treo in the entry way on our tile floor. Now my phone has survived many impacts in its time but that last drop would be its last. Imediately the bottom of the phone split open and 4 of the screws popped out as the cover flew off. It was impossible to recover those screws but my phone was working fine eventhough there was a huge gap at the bottom.
Eventually my old phone was finished. It started falling appart sending transitors and what-not falling out the bottom. haha. It kept on working but it seemed with every part, it kept on getting a little slower and less stable. So I contacted the Verizon Insurance Agency and the representative was extremely nice and let me know that they discontinued the 700w and now used the 700wx. It wasnt that much of a difference between the models except the colors were a little different and the new one had twice the RAM. The software was a little different except I had updated the old software to be the same as a 700 wx.
I definately love the new Treo 700 wx because the added RAM makes the phone more stable. I had alot of trouble with my old phone freezing up especially when it would send/recieve e-mail. It also froze alot when using the Internet Explorer web browser. Now I can do alot more and I can be more confident in using my phone without freezing. I cant wait to see the next new Palm Treo device.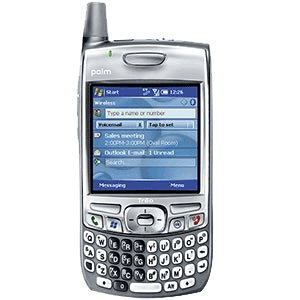 Image via
Wikipedia
Hey this goes with my last post haha. But yeah right now I am surfing on my computer over my Treo because our cable internet is out. You like never have these problems with DSL. Anyways it gets old b/c the cable modem always goes out when it seems like i need it the most. Eg. uploading about a couple thousand pics to get one of my websites back up again. oh well. I guess i'll actually go to bed early tonight. haha. God is great. Lates.