Image via Wikipedia
This post is dedicated to a film that, lately, has been really close to my heart… Step Brothers and an actor who undoubtedly is even closer… Will Ferrell. Will Ferrell and John C. Reilly work well together in this sometimes raunchy but very funny comedy. There are definitely parts with thick adult humor so it is not for the faint at heart. The irony of two grown men that in the beginning flaunt there immaturity but later on succeed when their parents separate. I would definitely recommend this for someone that does not mind some adult humor and language.
My favorite actor is definitely Will Ferrell with his unique comedy which is paralleled with no one. I love his dry humor and just his overall attitude while playing his roles. I was definitely impressed with this movie as I have not enjoyed some of his recent work too much, such as Talladega Nights or Semi-Pro. Both my mom and I definately laughed our heads off at this one. Good Job Will Ferrell. My favorite movie has to be Anchorman and I'm looking forward to getting that on Blu-ray but I enjoyed Step Brothers and I will admit that it is one movie that I will end up getting on Blu-ray.
Image via
Wikipedia
Let me tell you it has been so wonderful to be on Spring Break right now. I was at my uncle's house in Temecula which was really nice. It's always great to see family members and friends. They had an easter egg hunt and a wonderful Easter dinner there. Then on Monday we went down for the day to San Diego where I got a Bluetooth PS3 remote for watching those great Blu-Ray Movies and I got some sexy new Oakley sunglasses which I am stoked to have, even though I'm bankrupt now :). I'll check to see if I have any good photos to post from that.
The funny part is when I got home from my uncles I remembered to bring my Ghiardelli candy bar in so it wouldnt melt the following day in my car but I forgot about all of the other chocolate I had. Luckily I checked and even thought my car was pipping hot, none of the chocolate had even started to melt. Right now I'm just getting caught up in the finances and havin fun with friends and the fam. I might be going up to Big Bear with my uncle and his family to go snowboarding 🙂 Now that would be fun!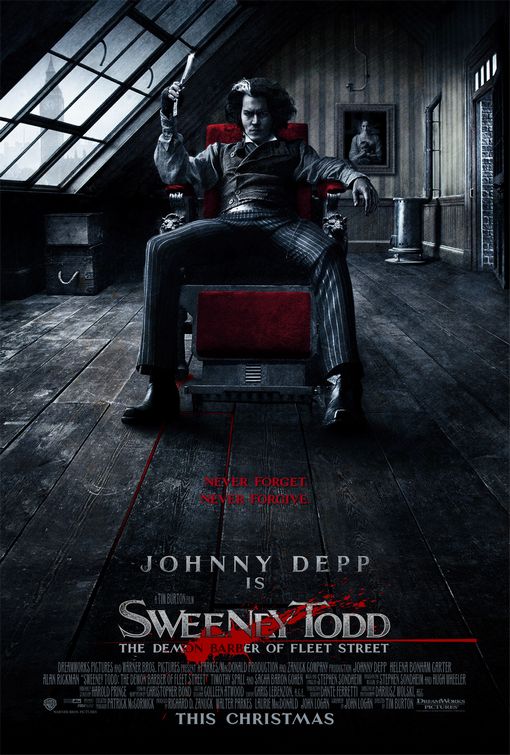 Sweeney Todd was such a great movie and that opinion come from someone that after the first 5 minutes, knew he was going to hate it. That's right… at first I thought I was really going to dread the movie ass they sailed into port on their ship but then I started enjoying it. I thought it was really good. I understand that the whole idea of slitting people's necks with razor blades isn't the best thing in the world but I thought Johnny Depp singing about it was almost comical. I enjoyed it so much that I'm waiting to see if it comes out on Blu-Ray so I can purchase it and watch it on my new TV. 🙂
Friends that I talked to mostly liked it except for a couple that didn't like it at all. I would recommend seeing it and let me know what you think about it. You can leave your opinions on the movie below.